Our foray into pointillism was piqued by reading
Katie's Sunday Afternoon
.  Bear loves these books about Katie who can go through a frame and enter a painting.
The idea of pointillism is not to mix colors.  This allows for optical mixing – your eye mixes the colors as it sees the two colors next to each other.  Georges Seurat began this art movement.  One of his famous paintings is An Afternoon at La Grande Jatte.  This painting took him two years to finish.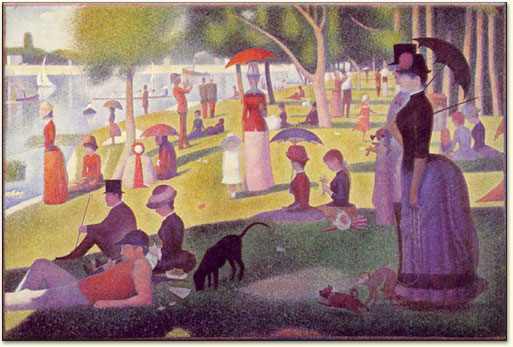 If you scroll down on
this page
, you can see a close up of part of the painting that shows the dots of paint.
Here is a You Tube video that shows some of Seurat's work.
I gave Bear a Seurat coloring page. I let her paint in the picture with the end of a pencil (the eraser side). 
She didn't finish and had no desire to try her own creation with dot painting.
If you've done any art with your child this week based on an artist or illustration style, or taught some of the elements and principles of art, or studied a musician or any other type of artist, please join the Linky. 
Please remember to link back
.  
Comments are appreciated, especially if you link up! 
This post also linked to stART