Emily Carr is my favorite artist.  I love the movement and rhythm she captures in her paintings of trees.  When I did my Masters in the Education of the Arts, we had a lot of art projects to complete and that year, I found myself going back to Carr for my inspiration.  Hence, why my nickname is thegirlwhopaintedtrees.  I started our family blog the year of the Masters program.  I know many of you wonder about my nickname and now you know.  The picture that shows up next to my name in comments on Blogger is one I painted during that program.  But I digress…
I introduced Bear to Carr by showing the paintings here.  We used my all time favorite Carr painting as our inspiration.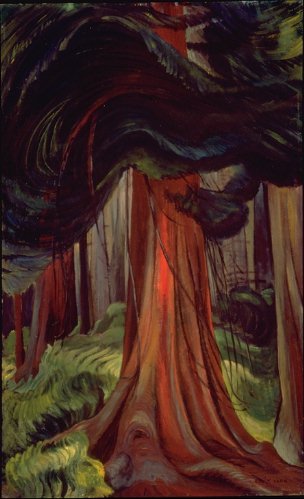 We looked up where Emily Carr lived on the map.  She actually studied in California and England, so there was a lot of looking at maps involved.  I told Bear about the room in the Vancouver Art Gallery (I grew up in North Vancouver) that is full of Emily Carr's trees and that when you walk through you just feel like you are in the forest.  I hope one day I can take Bear (and J-jo) to walk through the gallery with me.
I always do a practice piece first with my students, though not always in the same medium.  Bear did her practice piece in oil pastels and her actual piece with tempera paint.  We talked about the movement that the curves gave to the painting and that was Bear's criteria in making her painting – curves to create movement and filling the top to show the size of the tree.
Here is her art.
Her  practice piece – She was actually looking at a different Carr painting so she has sky and a mountain in there.
Working on the mountain.
The finished piece.
If you've done any art with your child this week based on an artist or illustration style, or taught some of the elements and principles of art, or studied a musician or any other type of artist, please join the Linky.  Please remember to link back or grab the button on the side bar.