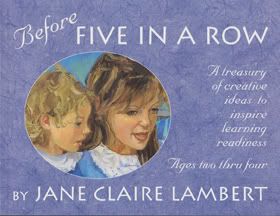 Before Five in a Row includes 23 Five in a Row-style mini-units centered around great children's books for ages 2 to 4.  The second half of the manual has a large section of playful learning readiness activities.
One of the things I love best about Before Five in a Row is that it is not complicated.  We can read the picture book while we snuggle in bed or on the couch and I can read the paragraph of the day to accompany the story.  Learning happens even if we don't do a worksheet, create a lapbook, use any manipulatives, do some themed work from the shelves.  Sure, I create all those activities for our shelves for both
Five in a Row and Before Five in a Row
, but this is totally unnecessary. 
Before Five in a Row
is the perfect book for the busy mom who has older kids to attend to but wants to catch a few special moments with her little ones.  It's also the perfect book for a mom of a single child who wants more direction in her read alouds.
Before Five in a Row is arranged such that for each picture book there is a summary of the book and a Bible verse that is illustrated through the picture book.  There are several paragraphs relating to various "subjects" like Science, Vocabulary, Art, Math, Language, Music, Character.  These vary from story to story. One story may not touch upon all these categories.  Under each heading is a paragraph informing the parent points to talk about.  These are just simple activities or discussions.  Most don't require any special materials.
For example, for The Little Rabbit, Before Five in a Row suggests looking at the illustrations and pointing out to the child how they differ from other Before Five in a Row illustrations (they are photographs).  She recommends finding other photographs of rabbits and comparing these to the illustrations in The Runaway Bunny and The Tale of Peter Rabbit.  The next heading is colors.  Under this heading, the paragraph suggests using a big box of crayons to match colors to the vivid colors in the photographs of the book.  The science paragraph talks a bit about camouflage of the brown bunny versus the white bunny and also about eyes and ears on a rabbit and how the location of the eyes allow the rabbit to see better.  There is a paragraph on toys and stories which gives the idea to make a special memory by purchasing a stuffed animal that resembles the little white rabbit.  There are six more headings for this book.  The idea is to focus on one area per day, but sometimes we end up talking about more than one of the topics.  Sometimes we do an activity that is related to an idea in the book.  This is where our Montessori theme work comes in.  However, when I first started with the Five in a Row volume 1 last summer, we only read the book and discussed the topic.  We did a few art projects but none of the more Mommy-work- intensive (but fun) activities I have done so far this year with Before Five in a Row.  The beauty of Before Five in a Row is that it can be as simple, or as involved, as you want it to be.
Before Five in a Row
costs $35 and can be bought at
www.rainbowresource.com
.  You can learn more about
Before Five in a Row
and
Five in a Row
, and see sample lessons, on their
website
.
Disclosure: I am a member of TOS and I was given this product free for review purposes only. I was not required to write a positive review. The opinions I have expressed are my own. To see what other members of the Crew thought click the picture below.