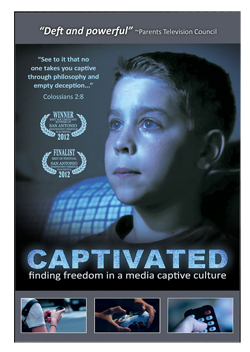 My husband and I had a date night recently during which we got to review 
Media Talk 101'
s 
Captivated DVD,
a documentary about media usage and its impact on society. This 107 minute documentary is intended for adults, but has been approved for all ages.  It is broken down into segments so it can be watched over a couple of viewings.  The movie has won a bunch of
awards
.
The movie, produced and co-directed by Phillip Telfer, opens with credits, as most movies do, but these were very well-done.  My husband and I were impressed with how the credits were all tied into social media (emails, and Facebook, and Twitter, etc). It was a clever way to emphasize just how ubiquitous media is.  There was also a history of the evolution of media and how it all began from the telegraph! Through interviews with doctors and experts, scientific research is shared with the viewers about the social effect of smart phones and social media and how it can become as addictive as a drug.
While my husband and I appreciated the first half of the documentary and often paused the DVD to discuss things, we both felt that it didn't mention much about the good side of technology. While many of us may be too enraptured by the phones in our pockets, media is very much like owning a credit card and using it responsibly. We need to exercise self-control with media, like in all things, and the movie does point out at one point that our hand-held devices are "tools, not appendages."  It was staggering to find out the statistic that there are more TVs than people in the average household!  The all-or-nothing, rather extreme approach to technology for a large portion of the movie bothered us a bit and led to a few more great discussions.  I went back to the DVD and listened to the extra interviews a couple of weeks later and in those interviews, the views seemed more balanced, with comments about controlling what and when you watch TV, for example, not necessarily throwing out the TV altogether.
Another point is that this movie is clearly from a Christian worldview.  A large part of the message of the movie is that our time is squandered on social media and that this time would be better spent reading the Bible, praying, and growing our relationship in Christ. Media is a stumbling block to growing faith.  I don't dispute that, in fact, I fully agree that it is, when misused, but it seemed liked it was too much of the focus of the movie.
I did come away with this:  "Our brains are not built for multitasking. You can't divide focused attention." This quote struck me as this is my major struggle.  I constantly try to multitask and it never quite happens as well as I'd like.  Did you know the Titanic hit the iceberg due to a multitasking error?  I also appreciated the personal stories of people who overcame their media addictions.
Overall, I liked the movie and recommend that everyone watch it, even if there aren't more TVs than people in your house.  It was astonishing to realize just how pervasive media can be.  It made a good date night movie because it allowed for lots of meaningful conversation with my husband.  I didn't agree with everything that was said, but it was very informative and helped me realize that I may look at my phone just a little too often.
Media Talk 101 is currently running a special on the Captivated DVD : buy one ($16.95) get and get the second one for $5 to give away.