J-jo has exploded with his reading and is now reading at a second grade level.  I thought it was time to start introducing spelling to him, but I wanted an even gentler approach than the spelling program I had used with his sister and I hadn't found the right thing yet.  I was providentially offered Spelling You See – the Spelling You See: Jack and Jill (level B) – to review, and jumped at the chance.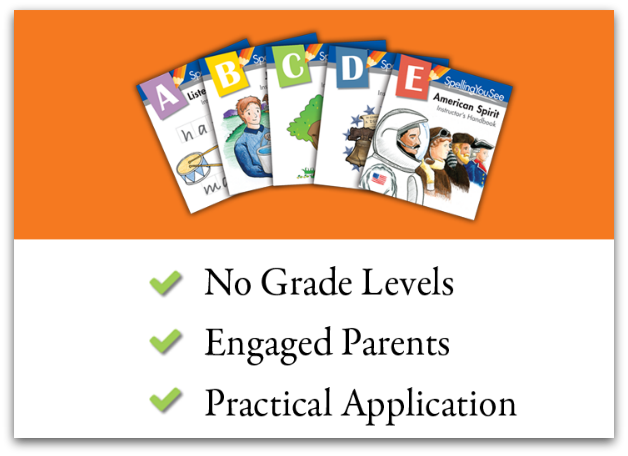 Spelling You See is a unique spelling program for elementary ages (or for older students needing remedial work) that involves no lists, no tests, and no rule memorization. There is only writing in a meaningful way via dictation of words, nursery rhymes, and later on non-fiction passages.  It reminds me a lot of Charlotte Mason's approach to language arts.  The very abridged version of Spelling You See's approach is that without something meaningful to which to connect the words, the spelling words from the spelling lists never make it to long-term memory. All students move through 5 development stages of spelling,which can't be rushed. Spelling You See moves through these levels with their program.  There are currently five of  seven levels available.  You can read more about their philosophy if you are interested.  Spelling You See is a product from Demme Learning, the same company that developed Math-U-See.
To teach Spelling You See: Jack and Jill (Level B), you need the Instructor's Handbook ($16) and a Student Pack ($30).  The student pack includes two books and erasable colored pencils.  Jack and Jill uses a nursery rhyme scheme to introduce words in an engaging way.  The student will need a regular pencil and colored pencils.  My son cherishes the erasable Crayola colored pencils that come with the student pack.  This level begins with the phonetic stage of spelling and moves on to the skill-development stage (see the philosophy page for a description of each stage).  There are 36 lessons, and each lesson is split into parts A to E, one for each day of the week.  Note that you absolutely need the teacher's manual for the dictations and all the pertinent information about the program.
Initially, I got an Advanced PDF copy to review, so in most of my pictures, you will see the pages I printed, bound by the Proclick; however, only physical book versions are available for purchase.  We finally got our physical copy in the mail and they are really beautiful softcover books.  I just wish the student books were coil bound so they could lay flat on the table.  The pages are perforated so they can be torn out and they can lay flat that way, but I prefer all the pages to stay together in the book.
Things my 4.5 year old LOVES about Spelling You See:Jack and Jill (levelB):
1. The nursery rhymes.
He reads these aloud to himself and is so thrilled that he can read them.
2. The bright colors and the nursery rhyme illustrations.
J-jo likes color.  There is a new illustration each day, so there is something to look forward to each day.
3. The squares for him to put the letters in.
This helps him stay neat and helps him focus on how many letters are in the word.  It helps him hear each sound as I tell him the word to write.
4. The copy work.
Each day he copies a line from the nursery rhyme.  My son does not like writing; yet, this is his favorite section of the curriculum.  In fact, he tries to avoid the writing on the facing page – the tracing and writing of the single letters and the "spelling" part. I like that I don't need a separate writing curriculum at this point because of how Jack and Jill includes it.

It even comes with a handwriting guide, which J-jo asks for when he can't remember the what the "draggy leg letter" looks like.


5. The "hunts."
Each day, the book asks the student to find different details in the nursery rhyme, such as the number words, or words that rhyme, quotation marks, or question marks.  This is my favorite aspect of the entire program.  I appreciate the gentle introduction to mechanics J-jo is getting through some of these searches.

Things this Mom Loves about Spelling You See:
I am enjoying Spelling You See for all the same reasons my son is, but I especially appreciate how gentle it is, while still expecting a lot from him.  He is a boy, and he is 4, and he doesn't particularly care for writing.  However, when he sees his Jack and Jill book, he always asks if he can write the rhyme.  Because he loves nursery rhymes, this program has him hooked.
We haven't made it into the second book yet, as it starts at week 19, but in that book, students are asked to find vowel and consonant patterns within the nursery rhyme.  The copywork also gets longer.  Each day they copy a section of the passage for ten minutes, and on the fifth day there is a No-Rule day in which students can write or dictate what they want.  The instructor guide encourages parents that if all five parts of a lesson aren't completed in a week, it is okay to move on.

The instructor guide is thin, but replete with valuable information.  Each lesson is short, giving you a focus for the lesson and some tips, but basically just telling you to follow the directions in the student book.  There is a daily dictation list (not a spelling list) in the back.  The list is arranged in two ways – by lesson number, and by progression of 3 letter to five letter words.  There are also dictation passages – they are the nursery rhymes.  Dictations are scaffolded.  The children are first to chunk the passage (they highlight vowel chunks, consonant chunks, bossy r chunks, endings, and a few other things. told the punctuation

How we use it:
Every day we get out the book.  The day's work is two pages (they face each other). The left side is always reading the nursery rhyme, hunting for the item in the rhyme, and copying a line or two of it.  The right hand side is copying letters and the dictation.  By lesson 7, there are no letters to copy and the number of words to dictate increases. Lesson 19 starts the passage chunking and the dictation of the nursery rhymes.  It takes about ten to fifteen minutes for where we are in the book (lesson 7). It isn't supposed to take any longer than that.  That's one of the best things about Spelling You See; the book recommends dictation take no longer than 10 minutes.
He reads the nursery rhyme to me, then finds the item he is asked to find in the passage, be it animal words, cumber words, periods, or commas.
He then does the copywork.  Often, this is all he wants to do for the day.  Because he is younger than the recommended age, I let him stop if he wants to.  If he is in the mood to do more, we finish the facing page, which has the individual letters to practice and the dictation section.   Most often, though, he does the facing page the following day and then usually also wants to move to the next page to do the "hunts" and copywork.  He is still very inconsistent with attention span, but I am completely at ease with that.  The beauty of Spelling You See is that they encourage you to be flexible and not to be hung up over the number of pages per week.  As long as the child is consistently working on spelling throughout the week, skipping a page or two will not impede a student's progress.  The teacher's manual states the common words and patterns get repeated many times throughout the course.  
Two small things:
1. The student books really do need to be coil bound.  It would make it SO much easier for the kids.
2. Although part of me likes that there are no spelling rules to follow, I still think spelling rules and knowledge of the sounds of vowel combinations are helpful.  I plan on informing J-jo of any relevant rules/sounds as he comes across them as we continue this program simply because I enjoy combining pedagogical approaches and it's always been hard for me to just stick with one program.
What you all want to know: Will I continue using Spelling You See?  
With J-jo, we will continue to use it until we finish the level and then evaluate where he fits best. Right now J-jo is developmentally right where he needs to be. The context of the nursery rhymes is perfect for him and his age. I don't know if the second student book of this level will be beyond his writing abilities when we get to it.  This is the dilemma of having advanced kids; they don't always fit into levels very well. If his writing stamina improves and he is willing, I will keep going with this spelling, in spite of owning another spelling program.  I like Spelling You See's unique approach.
Find Spelling You See on Social Media: Facebook and Twitter.  Find more reviews about this level and other Spelling You See levels by clicking on the graphic below.