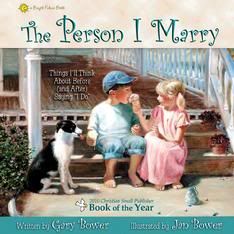 Even though Bear and J-jo are but 4 and 2, I already pray for their future spouses.  I pray that both Bear and J-jo will seek spouses that have noble characters and that they will not be drawn to people that will lead them astray in their faith.
When I heard about The Person I Marry from Bower books, I was very interested.  Here is a book that would teach them what qualities to look for to ensure a longlasting marriage.  Upon receiving my electronic copy of the book, I was delighted and knew I would be purchasing the hardcover book for our family. The book is beautiful!  The illustrations are lifelike oil paintings by award-winning artist Jan Bower and the text by Gary Bower is poetic and inspiring.
J-jo won't sit through it yet, but Bear does.  Every time I read it to her, she admires the paintings of the children.  She has chosen favorites already.  As she gazes at the pictures, I know that she is also reading the fancy scripts of the traits on the pages, and internalizing the words.  I love this book because it is telling my daughter (and later my son) exactly what I would want to tell them, but in a much better way.  Moreover, if it is in a book, then Mommy must know what she is talking about, right?  It validates what my husband and I tell them by being an "outside source."
The Person I Marry won the 2010 Book of the Year from the Christian Small Publisher Association.  It is part of the Bright Future Series of books which include What do Heros Wear?, There's a Party in Heaven, and  The Jingle in My Pocket.
Watch this video to get a glimpse at the inside of the the book and to hear bits of the poetic text.
The Person I Marry from Bower Books on Vimeo.
The Person I Marry is available in hardcover from Bower Books for $11.99.  You can get it autographed for free, just request it in checkout.  Also, Bower Books offers free shipping on orders over $30.
Disclosure: I am a member of TOS and I was given this product free for review purposes only. I was not required to write a positive review. The opinions I have expressed are my own. To see what other members of the Crew thought of this product click here.